February 25, 2019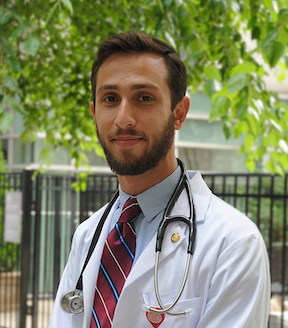 I grew up in Massachusetts and studied biopsychology at Tufts University (Class of 2016); now I'm a first-year MD-PhD student in the Tri-Institutional Program. Since college I've been involved in neuropsychiatry research in MA and Germany, and also spent some time teaching English in France.
Position: Mental Health Resources Coordinator
What does your position do?
As Mental Health Resources Coordinator, I work with the Mental Health Clinic directors, patients, and attending physicians to help coordinate psychotherapy treatment options. I also coordinate the Clinic's depression screening program, helping to track patients' progress and collect data on our screening and referral processes. Lastly, I'm collaborating with other board members and service groups to help raise awareness about mental illness in diverse contexts and connect patients to appropriate treatment resources.
What motivated you to get involved with the clinic?
With some initial experience as a Junior Clinician, it quickly became clear that the WCCC provides incredible care to some of NYC's most vulnerable people, while also providing a rich learning environment for students. Witnessing doctors and students devoting extra time to deliver the special care that disadvantaged patients needed, I was inspired to get involved in helping to develop the clinic as part of the Board in addition to gaining more experience as a Junior Clinician, with a particular interest in the quickly-evolving Mental Health Clinic. My favorite parts about being in the clinic are listening to our patients' stories and getting involved in clinical applications of what we learn in the classroom.
What do you enjoy about your position?
My favorite parts about this position are getting to know our patients, learning about our mental healthcare system, and the opportunity to help work towards improving our screening and delivery of care.
How would you like to move the clinic forward?
Moving forward, I think the Clinic will greatly expand the reach of its care through close collaborations with other student-run service groups at Weill Cornell and additional hospitals/organizations in NYC.