February 27, 2018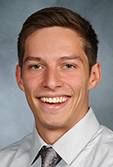 Position: Continuity of Care Coordinator
What does your position do?
I coordinate the Continuity of Care (CoC) program. This is a program that matches first year students with WCCC patients who could use some extra support with their medical care. I make sure all students in the program are aware of their CoC appointments, and I assist with any problems they may have. I will also organize the selection of next year's CoC students!
What motivated you to get involved with the clinic?
The WCCC fulfills an amazing mission of providing medical care to a very vulnerable patient population, while also providing excellent opportunities for students to get involved in various ways. I just wanted to join in this mission and help my classmates do the same.
What do you enjoy about your position?
I really enjoy getting to introduce patients to the CoC program. At first, many of them seem unsure of what to expect, but once they get to meet their CoC student, they are grateful for the extra layer of support. I also enjoy interacting with my classmates in the program and working our way through challenging situations!
How would you like to move the clinic forward?
I would like to have more students in the CoC program, and I would like the CoC students to get more training in areas that are important to the WCCC patient population. So far, I have been able to consent three more patients into the program with at least one more on the way, and the CoC Academy (a program to train CoC students) just had its first session!