August 11, 2017
This summer, the WCCC had some undergraduate students volunteering at the front desk of our clinic every week. We were so excited to be able to introduce these students to the health care field and the type of patients we see at our clinic. We spoke to one of our volunteers, Chola Kondeti, a rising fourth-year from St. Bonaventure University, about his experience with us.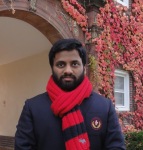 "With an interest to pursue a career in medicine and passion for conducting altruistic work, I have chosen to volunteer at Weill Cornell Community Clinic in order to acquaint with the hospital environment while simultaneously contributing towards providing healthcare to uninsured individuals of New York City who do not receive adequate medical treatment. My observation is that WCCC impacts the community by supporting other groups as well as promoting well-being. Unlike similar facilities it not only provides low cost or free services in the areas of primary care, women's health, psychiatry and laboratory tests/procedures targeting the ailment, but also instills comfort in patients taking solace in the drug reimbursement, social work, health education and insurance eligibility screening programs which assist them further. Thus far I consider this to be a positive experience based on my various interactions, from talking with junior and senior clinicians who answer questions, organize professional events, give valuable advice and otherwise create a supportive environment to greeting happy patients and deriving gratification knowing they were properly cared for. Handling front desk responsibilities has perhaps most importantly allowed development of my professional conduct, efficient work strategy skills, and effective communication essential for pursuing my future academic and career-related aspirations."
Thank you so much Chola and our other students for helping out this summer, we hope you enjoyed your time with the WCCC!